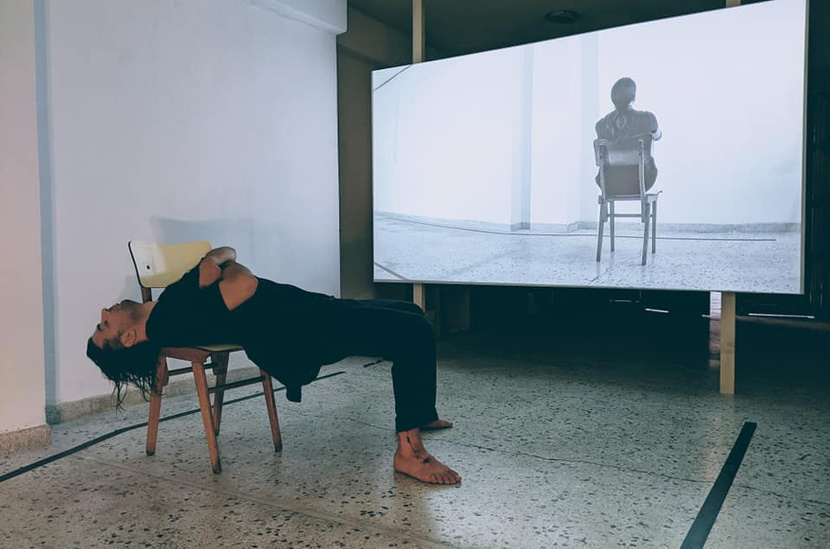 'presence (Un) presence' is a current, exploratory chapter of work of artist composer Martijn Tellinga, focusing on how to read,

bend and interpret principles of musical structure, temporality and process to negotiate the layered composition of performative
installation work. The project is concerned with imagining a kind of extended, trans-modal musicality. A musicality able to function
as a generative creative devise crossing material and formal boundaries, and as fluid mode of being and relating which allows
for a musical experience to be shaped differently by changing material and contextual forms, beyond sound and beyond the concert setting.
Guided by such considerations, the work Tellinga developed over the past year occupies an intermedium between music composition,
spatial installation and durational performance, which activates site-adaptive movement and performative action, registrative
techniques, text, and the spatial setting. Disconnected from the necessity of sound & listening, 'presence (Un) presence' invites
the visitor to engage with the fundamental ideas of music composition and performance through a proposed, speculative musical space.
How can musical ideas —as abstract objects— travel between and convey through different mediums and situations?
The instance of the work presented at EIGHT/ΤOΟΧΤΩ involves 2 similar but independently evolving performance areas,
connected and integrated by video transmission. A score-based progression of this environment evolves over the course of 7 days,
through the live enactments by 2 performers. In a reflection on the musical agency of 4 of our basic postures —standing, walking,
sitting and lying down—, they suggest extensions of the postures applying instructions lifted from earlier written experimental music scores.
A spatio-visual narrative between the 2 areas gradually builds through constant recording, archiving and superimposition of audio visual
material. Using two opposing projection screens, a traversing between the virtual and physical instances of the performances is explored.
Synchronizing or contrasting video images with live action within and between areas, the bodily presence and identity of the
two performers obtains both an expressive and a temporal function, in situating the immediate action within the larger spatial and relational
patterns unfolding on each performer's individual timeline and between each other's.
///
Martijn Tellinga is an artist, composer and occasional performer. His practice enfolds elements of concert, installation and performance art.
It explores the bounderies of composition and musical space and in extent continually pose rearrangements of what constitutes a musical
medium and musical agency. Much of his work is score-based and includes a wide variety of conceptual actions and chance operations,
probing the emergent field between intended and accidental occurrences.
He performs and exhibits his work worldwide, lectures and works in residence. With DNK-Amsterdam he is co-responsible for a
long-running series of events, concerts and exhibitions. He lives and works in Amsterdam.
////
Achilleas Chariskos and Astarti Athanasiadou are choreographers-performers who met at the School of New Dance Development (SNDO)
in Amsterdam – The Netherlands, and collaborate since 2010. Their work is an interdisciplinary on-going practice that researches how the urge
of/for movement can be related to performative actuality, exposure and transformation that eventually will revolutionize the body to a conveyance
of expression.
https://www.astarti-athanasiadou.com
////
EIGHT is a self-organised collective space activated in the centre of Athens that attempts to explore the possibilities of a critical
intervention in an ever-changing precarious landscape. EIGHT started in 2019 and bringing together forms of artistic, political
and theoretical production, urban research and social action and building on radical experiments of recent years, EIGHT seeks to
investigate forms of continuity and instituting that challenge neoliberal demands of sustainability. EIGHT has hosted group and
solo art exhibitions, theatre performances, festivals, discussions, talks, workshops, screenings and organizes artists residency
for international artists. Through forms of unconventional collective research, critical intervention and cultural action we aim to
repeatedly produce instituent moments of response implicated in the here and now of our city that we also hope reflects global
challenges at this moment in time.
https://8athens.wordpress.com/
28 july - 3 august 2021, athens, GR
13-19 november 2023, rotterdam, NL